The 12th Masquerade Festival of Theaters of Animated Forms in Rzeszów will last for five days (May 14-18). The theme of this year's edition is "HOSPITALITY" understood as difference, diversity, respect and curiosity for others.
This year, the organizers of the festival have proposed to theater creators that the performances presented, in addition to a high artistic level, relate to the subject of the OTHER in the broadest sense. Thus, they provoke conversations about diversity, identity, mindfulness and the emotions that the unknown evokes in us.
– We will examine whether tolerance is a positive, pejorative or neutral concept, and how it differs from respect. We want to talk about how to overcome the barriers that divide us – announced the organizers.
The 12th International Masquerade Festival of Animated Form Theaters will begin on May 14 and last until May 18. This year's edition will not be a competition. The festival performances will be presented on the stage of the host, i.e. the Maska theater, and in the friendly Teatr im. Wanda Siemaszkowa.
On the program, 8 shows for children, workshops for adults, a colorful parade and performative readings. One of the most interesting events will be the Living Library promoting the idea of ​​tolerance and respect for human rights. Books are people, and instead of reading there is casual, friendly conversation.
The "titles" are apparently ordinary people, but stand out from the rest for their stories. People who, because of their origin, their religion, their way of life, their opinions, their skin color, their sexual orientation or their background, have to face stereotypes, ostracism or excluding. The co-organizer of the Human Library is the Lycée Universitaire Bilingue. S. Barańczak in Rzeszów.
Tickets for performances cost: 18 PLN (group), 20 PLN (reduced) and 25 PLN (regular). The masquerade is under the patronage of Rzeszów News.
THE 2022 MASQUERADE PROGRAM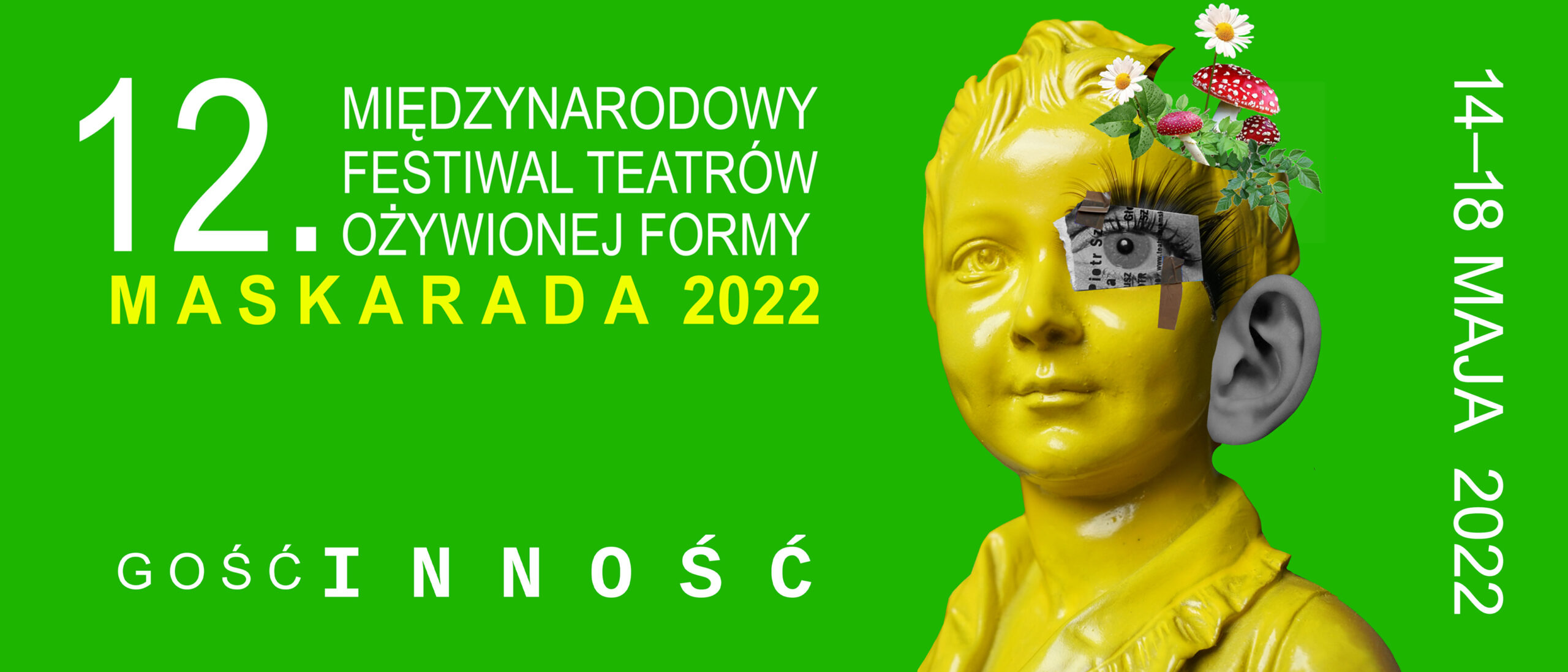 May 14, Saturday:
– weather. 12:00 – How to tame the Basilisk? – workshops for children aged 10 to 13, the Kacper Stage at the Maska Theater. The classes will be led by Natalia Koza, the educator of the Maska Theater, during which she will draw attention to the great importance of respecting other cultures and traditions and all kinds of differences: race, sex, religion, etc. such as the need for acceptance and the fight for equality vis-à-vis people with disabilities or others who are often socially excluded because of their origin, their place of residence, their income or their appearance.
– weather. 3:00 p.m. – Dziwoląg parade with the slogan "We are all strange", start in front of the Maska theater, march through the center to Aleja Lubomirskie,
– weather. 4:30 p.m. – "Histoires de lune" (musical 8+), dir. Tomasz Kaczorowski is the premiere of the Maska Theater.
A teenage vampire, Mina, accompanied by her centuries-old grandmother, the Baroness, must once again flee the place that has become their home. They are looking for a new shelter where people will not threaten their existence and chase them away. They feel strange and different everywhere. They find their way to legendary Transylvania, where, despite their fears, they will have the adventure of a lifetime, saving the forest, a refuge for all who seek peace and quiet. They will meet real friends who will help them tame the worst monsters of lunar stories… "Lunar Tales" is a musical about fear and friendship that defies social expectations.
The official opening of the festival will take place after the performance.
May 15, Sunday:
– weather. 12:00 – "I, a snowman" (performance 6+), Poznań Animation Theater, Maska Theater main stage.
Have you ever wondered how to live your whole life in one night? How to stuff yourself with all the delights, discoveries and beauties of this world in a few hours? Is it even possible? How do you get along with someone with whom you differ like fire and water? Can you love someone so different? Will a surprising and difficult friendship show how to enjoy life, manage the passage, and… how to avoid the inevitable?
– weather. 14:00–19″00 – "The Living Library", Rzeszów University Auditorium A0, ul. Pigonia 1, free admission
May 16, Monday:
– weather. 9.30 – "Kingdoms" (performance 3+), Guliwer Puppet Theater, Warsaw in co-production with Teatr 21, performance on the main stage of the Maska Theater.
It is an absolutely atypical, attentive, warm performance that takes into account the needs of people with different sensory sensitivities, including people with autism.
Eustachia – the queen of Venus has long been fond of observing the Earth and its inhabitants. She was delighted that so many beings lived here and that there was a place for everyone. Now the queen looks at the nuns, Bernardet and Clementine. One day they lock the door and embark on an adventurous journey… Simple intrigue has become a pretext for careful observation of our planet, noticing the needs and diversity of its inhabitants.
– weather. 11 a.m. – "My shadow is pink", (performance 7+), Pinokio Puppet Theater in Łódź, performance on the main stage of Teatr im. W. Siemaszkowa
The performance is based on a book by Scott Stuart, inspired by his own family history. A moving, but not obvious, story about the courage to be yourself, and the shared responsibility and support of loved ones, which can indeed color the greatest and most terrible fears. A story that shows kids how important courage is and teaches adults how to be a better parent. An integral part of the performance is a conversation led by the educator.
– weather. 1:00 p.m. – Conference of theater directors
– weather. 4:00 p.m. – Pigmalion Effect – workshops for teachers at the Maska Theater.
Course participants will try to ask themselves if, in their pedagogical work, they are not giving their students signals: "you won't succeed", "it's too difficult for you", "I have to help you for that". Instead of changing what does not suit them, they will try
stand apart, actively observe and sympathize with them, feel their identity,
individuality, distinctiveness and, above all, value. They will also talk about expectation theory and self-fulfilling prophecies. The workshop should be an impulse to stop the desire to match others with our ideas and measure them against your expectations.
May 17, Tuesday:
– weather. 9:00 a.m. and 10:30 a.m. – "Spaghetti" (performance 3+), Baj Theater in Warsaw, performance on the main stage of the Maska Theater.
Brothers August Wysoki and Beniamin Wysoki invite you into their kitchen and show you how to make the perfect spaghetti. The heroes have a proven recipe, big pots, mutual aid, but… they will be distracted by someone. The stage will be lively, joyful, dancing and of course musical. Young viewers will have the opportunity not only to learn the secrets of cooking one of the most popular dishes, but also to listen to live music performed by actors and accompany all their pranks.
– weather. 11.30 a.m. – "Wędrówka Nabu" (show 7+), Arlekin Puppet Theater in Łódź, performance on the main stage of Teatr im. W. Siemaszkowa.
Nabu is a little girl who lives in a village across the sea. He has a nice, warm home and a loving family. One day, under unexplained circumstances, a fire breaks out, driving them away from safety. He flees his home village engulfed in flames to find a place where the houses don't burn and where everyone can finally be safe. Nabu's story shows how difficult it is to escape fear and pain. And how much must one suffer to achieve the goal of the journey.
– weather. 6:00 p.m. – screening of three studies by the Little Theater Academy, Kacperki stage by the Maska Theater:
* Theory of cosmic order (dis)" (the oldest group) – the study was based on a text by Rafał Paśka, an author from Podkarpacie.
* "What do feelings do?" (middle group) – based on Tina Oziewicz's book "What Do Feelings Do?"
* "Basilisk" performed by last year's participants from the Little Theater Academy – based on motifs from "Bazyliszek" by Wanda Chotomska and "The Ugly Duckling" by Hans Christian Andersen.
May 18, Wednesday:
– weather. 18:00 – "Wykluczeńcy", performance based on dialogues of children from 5 to 16 years old, Analog Collective from Warsaw, performance on the main stage of the Maska Theater.
In this project, the Warsaw-based Analog Collective tackled the theme of "being different from everyone else". The creators asked children aged 5 to 16 to help them find an answer to the question of who is the outcast, where does it come from and how to deal with it. Children, using their simple knowledge and extraordinary imagination, analyzed the current social situation of exclusion and presented a ready-made scenario for the show. What conclusions did they come to? Child's play! Masters of non-obvious form and socially engaged theater will transform the big stage of "Maska" into a bizarre puppet show, in which antics mix with violence and childhood with adulthood.
– approximately. 7:15 p.m. – end of the festival
(the)
redakcja@rzeszow-news.pl